" Journal of " science et science de l'ingenieur
An open access, peer-reviewed journal, published by the University Amar Telidji-Laghouat
Journal description and scope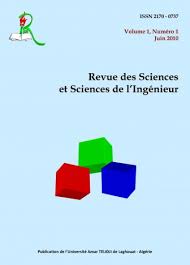 Revue Science et science de l'ingenieur (RSSI) is an open access, peer-reviewed journal, published by the University Amar Telidji-Laghouat, with no publication fee that publishes, in English and French, in all areas of science an engineering science. The journal welcomes the submission of manuscripts that meet the general criteria of significance and academic excellence. The journal offers a meeting targeted for specialists around the world to publish and discuss all topics related to the engineering. The journal publishes 02 issues per year. The topics include, but are not limited to: research on engineering.
Editor-In-Chief
Dr. Zoukel Abdelhalim
E-mail :abdelhalim.zoukel@gmail.com.  University Amar Telidji UATL – Laghouat, Algeria.
Associate Editors
Lefkaier Ibn khaldoun
ik.lefkaier@lagh-univ.dz
Fatima Djerfaf
f.djerfaf@lagh-univ.dz
Université Omar Telidji de Laghouat
Mokhtari Bachir
ba.mokhtari@lagh-univ.dz
Université Omar Telidji de Laghouat
Bellakehal Hizia
h.bellakehal@lagh-univ.dz
Mourad Adnane
mourad.adnane@g.enp.edu.dz
Mokhtaria MESRI
meradmesri@yahoo.fr
KOUZI KOUZI
k.kouzi@lagh-univ.dz
Houari Toubakh
houari.toubakh@gmail.com
Mebrouk Djedid
m.djedid@lagh-univ.dz
Université Omar Telidji de Laghouat
Benmouiza Khalil
k.benmouiza@lagh-univ.dz
Chabira Salem
s.chabira@lagh-univ.dz
Omar Mansour
mansour.phys@gmail.com
Khelifa Baizid
baizid.khelifa@gmail.com
Amar Oukil
a.r.oukil@googlemail.com
Sultan Qaboos University, Muscat, Oman
Hamza Lidjici
h.lidjici@lagh-univ.dz
Secretary 

Nassima Tidjani
email : n.tidjani@lagh-univ.dz, University Amar Telidji – Laghouat.